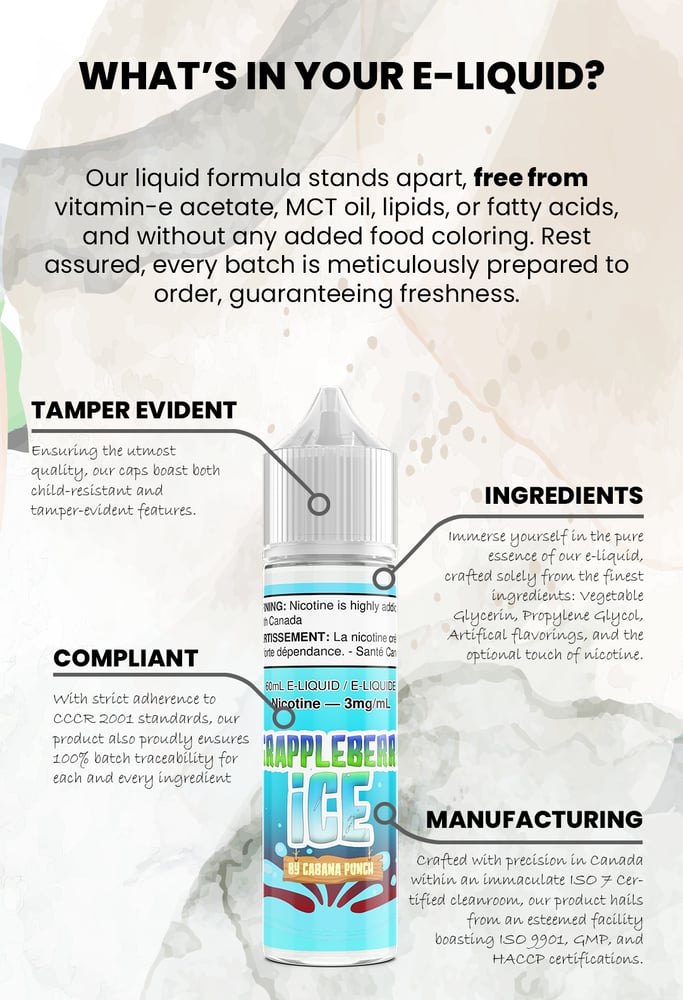 We pride ourselves on exceeding existing manufacturing standards and offering our customers the best end product possible.
DashVapes operates two manufacturing and distribution facilities

Ontario, Canada

17,000 Square Feet
2,000 Square Feet Laboratory
600 Square Feet ISO-7 Certified Cleanroom
400 Square Feet Nicotine Production Cleanroom with Jacketed Reactor and Chemical Shower

Florida, USA

16,000 Square Feet
2,000 Square Feet ISO-7 Certified Cleanroom for Filling & Manufacturing

Athens, Greece

750 Square Meters
120 Square Meter ISO-7 Certified Cleanroom for Filling & Manufacturing

All facilities ISO-9001, cGMP, HACCP Certified
Rigorous pest control via Orkin Canada
24-month sample retention
Ingredients

Vegetable Glycerin USP 99.7% Grade
Propylene Glycol USP 99.7% Grade
Artificial Food Flavouring USP Grade, GRAS (Generally Regarded as Safe) Approved (for Ingestion)
Pure Nicotine USP 99.9% Health Canada Licensed Nicotine

Child Resistant and Tamper Evident cap
Compliance

Compliant to Canada's federal Tobacco and Vapour Products Act (TVPA)
CCCR 2001 Compliant labels with necessary safety data and danger warnings
100% Batch Traceability for every ingredient.

Go to the Batch Look-up tool to see this data for your bottle

NO VITAMIN-E ACETATE This is the contaminant responsible for the illnesses and deaths in the United States (from Contaminated cannabis vape products)
NO THC
NO CANNABIS
NO MCT OIL
NO LIPIDS OR FATTY ACIDS
NO FOOD COLOURING
Our E-Liquid is always fresh and made-to order
Don't let the activists tell you to go back to smoking cigarettes. Have confidence in products manufactured by DashVapes and other legal vape retailers and manufacturers.
Vaping has been proven to be 95% safer than combustible tobacco cigarettes. Adult smokers can reduce their harm significantly by switching to electronic cigarettes. If you don't smoke, you should not vape.